---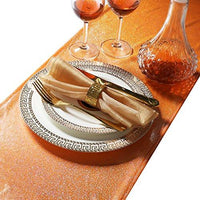 Brand: LOVWY
Color: Orange
Features:
✔️ QUALITY MATERIAL FOR LONG-TERM DURABILITY: Forget about those low quality Table Runners, that are destroyed after one week or month of using. Our Table Runners are made of the HIGH QUALITY LASER POINT. We always make sure to sadisfy our customers with the PREMIUM PRODUCTS.
✔️ THEY ARE ALWAYS SMOOTH (WITHOUT IRONING): The fabric is treated with a new process and a professional machine is used for seaming. The surface is SHINY AND SMOOTH. You don't need to use an iron with our Table Runner - it is always ready to be put on the table, even after a long-distance transportation. It is perfect for an occasion, where it needs to be transported.
✔️ WE TAKE CARE OF QUALITY, YOU TAKE CARE OF YOUR TABLE: Our number one priority is the customer's sadisfaction. That's why we always ensure that our products are making the customer's life better. With our Table Runner you can relax and easily decorate your table, making it look even more nicely.
✔️ TAKE IT WITH YOURSELF AND USE WHEREVER YOU WANT: Our Table Runner is aplicable for almost every ocassion: Wedding, Graduation, Celebration, Birthday, Indoor or Outdoor Party... Any Party or Occasion decorated with our Table Runner begins to have MORE FUN AND LIFE. THE LASER POINT FABRIC is perfect for modern chic, seaside, lawn, originality wedding decoration or any other special occasion. Twelve optional colors take your fancy and supplies many choices as you like.
✔️ 100% MONEY BACK GUARANTEE: Love our Luxury Table Runner or we will buy it back from you. No Questions Asked!
Publisher: Highland Hotel Stuff Manufacture Co.Ltd
Details:            ⭐ PREMIUM QUALITY LUXURY TABLE RUNNER ⭐


WHY OUR TABLE RUNNER IS BETTER THAN OTHER ONES?
IT'S MADE FROM LONG-LASTING 100% LASER POINT: Forget about those other, low quality Table Runners.
We ensure that our Table Runners are made from the best materials so that all customers love them!
YOU DON'T NEED TO USE IRON: Whether you want to take it with yourself to a far away place
or it's in a cupboard for a long time- there may be occasional creases, but it can be used without electric iron.
PREMIUM TESTED QUALITY: All of our products are tested to ensure their high quality.
Having bought our products you have a guarantee, that they will be long-lasting and durable.
           HOW CAN YOU EASILY CLEAN OUR TABLE RUNNER?
All you have to do is hand wash our product and use a flexible detergent (if you have one) and then hang dry.
In addition, do not bleach it and try to avoid high-temperature exposure.
UPC: 640671015844
EAN: 0640671015844